DRUM MAKING MADE EASY.
Guerrilla Drum Making makes it easy to design and build your own custom drums.

With Guerrilla Drum Making, you can enjoy over 300+ minutes of custom drum making video tutorials. Plus, you can download videos and files, get drum supplies, community help and support from us.

Our videos are simple but crafted for achieving
awesome results. Experience is over-rated.
The tools we recommend are easy to use.
They won't clog your budget and don't take time to master.
✓ Over 25 Videos and Counting
✓ Video & Project Downloads
✓ Help & Support
✓ Access to Supplies
✓ Detailed Material Lists
✓ Convenient Watching Online
✓ VIP Access for LIFE!

---
---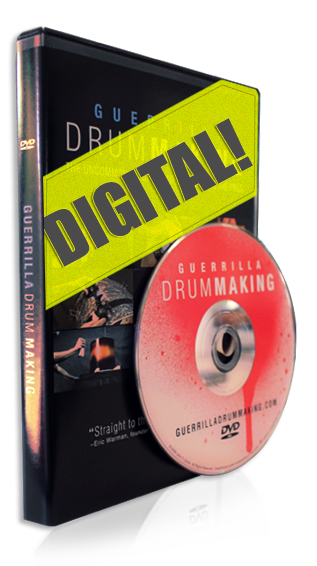 Featured in:

WHAT YOU'LL GET.
Let's make sure you're crystal clear on what you'll get for your hard earned money.
The Videos

✓ Convenient Online viewing. No DVD's.
✓ Over 25 Tutorials and counting
✓ New Videos Added and Updated
✓ Easy to Follow, Clear Explanations
✓ View on Mobile Devices and Tablets
✓ Materials list for Every Video



The Downloads

✓ Download ALL Videos
✓ Written Instructions (manuals)
✓ Drawings and Diagrams
✓ Put on your laptop for areas with no Wi-Fi





The Details

✓ Lifetimes Access
✓ One time fee
✓ Help and Troubleshooting Support
✓ Community Support
✓ Submit Video Requests
✓ 24 Hour Access, All the Time.
✓ Guaranteed Results

The Videos
Join us as we show you how to approach your project with confidence and ease. You'll see videos on drum staining, lug layouts, bearing edge cutting and theory, veneering, custom collage secrets, drilling secrets, high gloss finishes, sunbursting with spray cans, custom drum inlays, snare drum hardware and setup, and mistake free ways to plan and build your dream drum set.

Conveniently enjoy over 25 tutorials and counting, all online in the comfort of your own web browser or mobile device. You'll have instant access to all videos and detailed material lists on every single video. Plus, you'll have FREE access to new videos that we add in the future.